Sicily's hidden jewel
This quaint coastal town has been a deluxe destination for those with refined tastes ever since ancient times.
---
Rising majestically from the sea, Taormina sparkles at the foot of Monte Tauro.
For all if Italy's charm and grace, Taormina presents something distinctly idyllic. As a very popular tourist destination, Taormina is remarkably quiet place that never seems over crowded. You most certainly will notice young unshaven back-packers trekking through the streets, and you will be very aware of the presence of other Anglo-Americans at various sites and restaurants; but, somehow their presence does not detract from Taormina's intimate side. This minuscule town, beautifully perched on a cliff overlooking the sea, is home to excellent shops and plenty of sites to see, from ancient ruins to medieval churches. But above all, Taormina is a place to relax and absorb its splendor, either at a café on its cliff-top piazza or sunbathing at the paradisiacal beaches across from the exotic and appropriately named Isola Bella (beautiful island).
History & Culture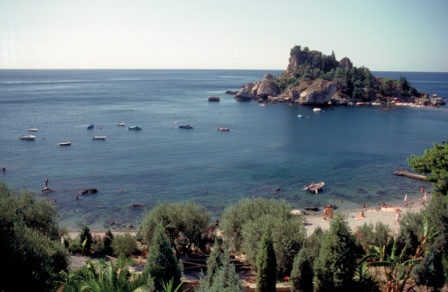 Taormina, in the province of Messina, was first settled by an ancient Sicilian tribe and later taken over by Greek tyrant Dionysius I, the Elder of Syracuse, around 293 B.C. Soon thereafter the Mediterranean world began to take notice of Taormina's natural perfection when different nations' trade boats would come to its port. In the Middle Ages, it passed through the hands of both the Saracens and the Normans. In much later centuries, Taormina was what one might call conquered anew, first by wealthy German and English tourists, and later by rich American celebrities like Truman Capote and Joan Crawford. Once you embark on a promenade along one of the oceanfront cliffs or through its Byzantine, medieval, and Baroque churches, you will begin to understand why Taormina is considered among the most charming resorts in Italy; once to have a few glasses of wine enjoying a sunset a the Lido Mazzarò beach, your eyes will be fully opened!
As it is with most places of natural beauty and luxury, fine dining is among Taromina's most prolific pastimes. The medieval streets offer a wide selection of ways to taste Sicily, either at one of its restaurants, less formal trattorias or pizzerias, pastry-shops, gelato shops, bars, or cafés. Try starting your day at an outdoor café, watching the waves lap the coast from above while you sip on Taormina's famous granita al caffè con panno (iced espresso with whipped cream). As you might expect, seafood plays a rather significant role in the local cuisine. Indeed, even Ovid, who we assume had a cultivated palate for such things, was known to praise the delicate swell flavor of fruit of Taormina's seas.
Shopping, Festivals & Cuisine
Shopping
Taormina has one of the most famous markets in Italy for crafts. In walking Corso Umberto you will find the hand-made ceramics so often admired in the States-especially the famous "white pottery" of Caltagirone. Other hand-made crafts include treasures made of leather, iron, and wood and furniture and home décor inlaid with semi-precious stones. There are also glassware specialists and jewelers-with antique gold offerings. Antique shops also dot the market in Corso Umberto, as well as vendors with clothes and shoes and souvenirs. There are traditional gourmet shops offering specialties cheeses, sweet meats, olive oil, honey, liqueurs, and wines.