Queen of the Adriatic
Venice is a city of unspeakable intrigue and beauty, with its labyrinth of calle, intertwining canals, and glorious architecture and monuments from its celebrated maritime past.
---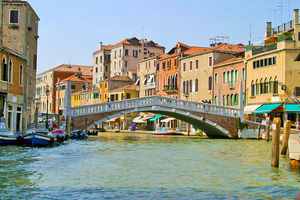 There are not enough superlatives in the English language to describe Venice's charm and grace; even attempting to convey its wonder fully in is among the boldest yet most futile attempts. All lovers of Italy must experience Venice walking down ones of its impossibly tiny calle (narrow pathways), across a tucked-away piazza inhabited by a medieval monastery; promenading through the Piazza di San Marco, or traveling through the mysterious canals in a traditional gondola. Venice is a profoundly special city, and the reasons for which can only be appreciated by immersing yourself in its splendor.
History & Culture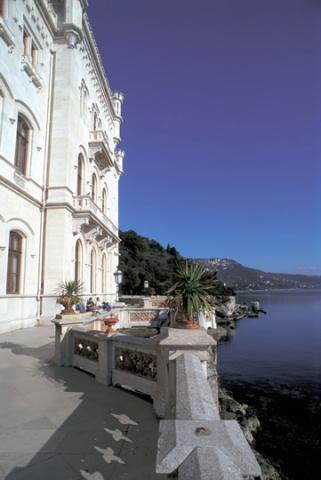 Venice is a tremendously confusing city, so without bearing in mind that getting lost is part of fun, finding whichever sight you are in search of can be frustrating. Thankfully, major landmarks are provided signs for: Piazzale Roma, Rialto, Piazza San Marco, and the Accademia bridge. But, while each of these, and others, are very much worth experiencing, the proper mindset to have in Venice is to limit the items you want to see to only a few, because Venice's most alluring side is revealed by stumbling randomly across landmarks, monuments, churches, and cafés in the midst of your journey. Having said that, Piazza San Marco is a must, and while it is thoroughly touristy, there are few places better to have either an espresso or a glass of wine than at the many cafés and bars in the Piazza, because what could be more scenic than sipping to visions of legendary view of Canal Grande or the golden Basilica di San Marco? The Cathedral is as magnificent inside as it is out, and you can even climb to the top to get a bird's-eye view of the Piazza. Just adjacent is the Ducal Palace, striking for its architecture and impressive art collection. Of the other must-see art museums, a prominent choice is the Academy Gallery, housing Venice's best works from the 13th to the 18th century. Of the many other activities to do in Venice, one of the most important is a trip down the Grand Canale and its tributaries in a gondola. Done the "right way" - as a prelude to a night at the La Fenice opera and with a bottle of wine carried on board - we promise this will be one of the highlights of your vacation.
But as you are gliding through its canals or meandering through its calle, remember that Venice was never meant to exist. Fleeing barbarian attacks, in the 5th and 6th centuries AD, the people of the Veneto region sought refuge in the marshlands in Venice's present location. Regrettably for the to-be people of Venice, a city was not going to miraculously appear out of nowhere (or was it?). They built rafts and placed wooden posts into the marsh's underlying mud, which laid the future city's foundation. Venice's infancy was principally centered on what is now Rialto (named as such for being the highest - alto - point in the lagoon). Not long thereafter, after making peace with the Byzantine Empire, Venice became a fully-fledged republic in 697. In later centuries, Venice would become a major naval power, making the city indispensable during the Crusades. In the early 13th century, during the 4th Crusades, Venice plundered Constantinople and actually incorporated it into the Venetian Empire. It can be argued that Venice was, especially after its 14th-century defeat of its Genovese rivals, the greatest naval force in the Mediterranean, until the growing Turkish Empire began picking apart its lands, starting with the Constantinople in the mid 15th century. After passing through the hands of Napoleon and later the Austrians in the late 18th and early 19th centuries, in 1866 it was unified with the rest of Italy.
Shopping, Festivals & Cuisine
Shopping
Murano glass: Visit Murano, Venice's famous lagoon island known for its world renowned Murano glass.
Burano lace: Visit Venice's 2nd most famous lagoon island, renowned for its fine lace making.
Festivals
Carnivale: Italy's most famous holiday, which involves a slightly more PG version of Mardi Gras.