The heart of Italy's beauty
This is a place for those with discerning tastes who want to embrace picturesque countryside, glorious art, ancient churches, and delectable cuisine.
---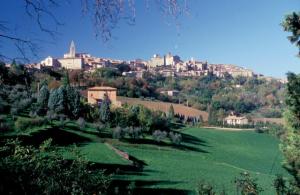 Visiting Umbria will inspire you to ask how this amazing region is largely undiscovered by Americans. Visitors, however, are not complaining. Unlike in its equally beautiful neighbor Tuscany, the tourist hordes do not roam Umbria.
Despite the vast and rich culture that permeates the entire Italian "boot", many visitors concentrate on the better-known areas - Florence, Rome, Venice. These cities are immensely beautiful, but some of the best things in Italy are found in places like Umbria: largely unknown towns accessible as they are alluring. Upon your visit to Umbria you will wonder how such a gem could ever lay so far under the radar of American tourism; indeed, the reason for this might be that those who have enjoyed it want to keep it a secret. Even the locals "ooh" and "ahh" admiring the vineyards of Orvieto or the panorama of Assisi and its famed Cathedral. In Umbria there is much to enjoy: a casual drive through its hilly countryside, passing through fertile farm lands covered in olive groves, grape vines, and chestnut trees; the area's refined art, including the notable Il Perugino; and a rich and ancient religious history, including the founding of the Franciscan Order. All of this is complemented by Umbria's natural splendor and an excellent cuisine.
History & Culture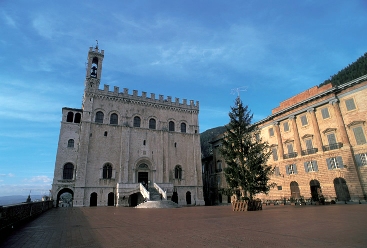 Umbria goes under the nickname "the green heart of Italy" not only because of its natural beauty but also because it is, at the peninsula's center, Italy's only land-locked region. Its strategic location is one of the central reasons that Umbria's original settlers, the Oscan-Umbrians, made their home here around 1000 BC. Interestingly, their ancient settlements were the foundations to Umbria's most prominent towns and cities: Terni, Todi, Spoleto, Assisi, Gubbio, and Città di Castello.
A few centuries later, the Etruscans forced the Oscan-Umbrians to concede some of their land; but a healthy relationship grew between these civilizations, so much so that they joined in a united front against the growing Roman Empire. In 295 BC came Rome's defeat of the Oscan-Umbrians and the Etruscans at the Battle of Sentino, which led to both of their declines. Interestingly though, while in most of Italy the ancient Empire's presence is keenly felt, in Umbria, a unique local spirit is partially attributed to the persisting presence of Etruscan culture. Anyone who has ever passed through Umbria and even parts of Lazio has noticed the dome-shaped tombs of the Estrucan necropolis. And even in the modern cities of Orvieto, Città delle Pieve, and Perugia is a uniquely organic cityscape that stands in stark contrast to the rigid Roman design.
The peoples of Umbria eventually became incorporated into the Roman Empire and enjoyed economic prosperity and peace. But Rome fell in the 4th century AD, and Umbria, like much of the rest of the Empire, eventually became part of Christendom, beginning a rich religious heritage that exists even today. Today the region's many churches and magnificent cathedrals bear testimony to this and to the many great religious leaders who influenced the area, most famous of all St. Francis of Assisi, who, not coincidently, was a great lover of nature's beauty, believing it to be one of God's most relevant and poignant manifestations, a tradition that is maintained by his Order today.
Shopping, Festivals & Cuisine
Cuisine
Tartufo Nero: The famously delicious black truffle.
Tagliatelli con tartufi nero: fresh fettuccine-like pasta topped with black truffle sauce.
Porchetta: slow roasted suckling pig.
Falchetti: potato gnocchi baked with ricotta and spinach, topped with a tomato cheese sauce.
Asparagi al forno: Umbria's favorite vegetable asparagus baked and topped with fresh pecorino romano cheese.
Orvieto: the region's most famous white wine.
Montefalco Sagrantino: Umbria's most famous red wine, and one of the best in Italy.