City of Sirens
Sorrento's beauty is manifested through a one-of-a-kind energy, cuisine, scenic surroundings, and culture, which combine to make a seductive chorus that touches each of its guests.
---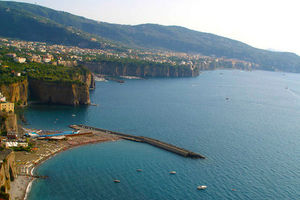 Just as the beautiful, sultry sirens that once sang to Odysseus and his Greek sailors, so Sorrento, their mythological residence, has drawn visitors from the ancients to the multitudes that vacation here every summer.
Our fascination with Sorrento is grounded in mythology and ancient literature. The Romans believe Sorrento, then Surrentum, was home to the infamous sirens, the beautiful, seductive witches who lured sailors - most famously the Homeric protagonist Odysseus - to their deaths with their enchanting voices. This attraction to the beauty and mystery of Sorrento has persisted through the millennia to the present, from the toga-clad ancients to today's visitors who are no less enthralled. Sorrento, perched on an almost fortress-like cliff, has everything one would expect from a city on the Amalfi Coast: exquisite food and wine (particularly pizza!), rich Roman history, and beautiful surroundings. The reason Sorrento is distinct, however, is that a contagious energy permeates it: couples walking hand-in-hand, friends laughing over a drink, old men animatedly discussing politics, and loads of vespa motor-bikes buzzing through the streets. To the unfamiliar eye, Sorrento might seem an insane chaos, and it very well might be so. But this vivacity can only be a consequence of one thing, the still very-present spirits of the sirens who once lived in Sorrento.
History & Culture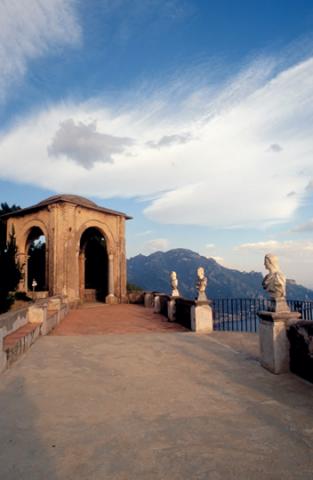 Sorrento's beaches are few in number, but the reason this resort is so famous is because there is a lot of sun here and plenty of excellent ways to enjoy it. A favorite is to pay a small price for a lounge chair at one of the many piers that extend into the water. These places are perfect for sitting back, staring into the horizon, and tanning while sipping on some tropical, fruit-infused alcoholic beverage; Punta del Capo is an excellent option. Then after you've worked on your tan sufficiently, in perfect southern Italian style, shower and put on something comfortable and elegant, and join the spirit of Sorrento's locals and stroll into the evening to settle down at a nice café for a light and refreshing drink to prime your stomach for a memorable dinner. Then, depending on your taste, join the fun at a cantina or piazza bar for a lively nightcap(s).
While relaxing and living leisurely is the mainstay of Sorrento, there are still some very nice churches and monuments. Especially considering that Sorrento doesn't cease for a second, it is nice to settle into the more peaceful, monastic environments that continue to house several Catholic Orders. A stunning example of this is the Chiesa di San Francisco, which is just outside of Sorrento's benevolent chaos, with a quiet, delicate garden populated with exotic flowers and vines and charming arches. For museums, we suggest the Museo Correale di Terranova for its collection of ancient sculptures and Italian art. It also houses several examples of Italy's famous intarsia, a rather stunning style of art that creates intricate images, oftentimes with perfect use of perspective, with very thin pieces of wood. After a healthy dose of monastic tranquility and culture, time to take advantage of Sorrento's shopping, the best on the Amalfi Coast. Areas to go are Piazza Tasso and Via San Cesario, which are also delightful places in which to take walks, as well.
As for Sorrento cuisine, it is as simple as it is tasty, which to so say "very" on both accounts. Shellfish is a favorite; lobster is boiled on its own or makes its way into exquisite pasta dishes. One item that must be tried is spider crab, great in pasta and soups. In Sorrento, tomatoes and mozzarella are as epic as they are in Naples, for which the luscious gnocchi alla sorrentina (potato gnocchi paired with a fresh tomato sauce, basil, and the delicious braided mozzarella made from fiordilatte) is a mainstay, and one of the best dishes in the country. Other noteworthy items are stuffed eggplant, salumi (Italian cured meats), cheese, and their famous beans; and all dishes in Sorrento are finished off with a drizzling of its sweet extra-virgin olive oil. Wine-wise, no one dares touch anything but the local stuff since it is so good and pairs so beautifully with the food. For whites, Greco di Tufo and Falanghina are excellent choices; for reds, Taurasi, Lacryma Christi, and Falerno are great. For digestives, typical of the Almafi Coast, limoncello is superb; and the famous Sorrento walnuts make another exquisite digestive called nocino. These are paired with Sorrento's famous pastries and other desserts: sfogliatelle (puff pastry), marzipan, gelato, and profiteroles.
Shopping, Festivals & Cuisine
Shopping
Furniture: If you can carry it back to the States, go to Gargiulo & Jannuzzi, a remarkably famous purveyor.
Embroidery and lace: cheap and excellent in Sorrento.
Cuisine
Gnocchi alla sorrentina: potato gnocchi paired with a fresh tomato sauce, basil, and fiordilatte mozzarella.
Greco di Tufo/Falanghina: local dry white wines.
Taurasi/Lacryma Christi/Falerno: local dry red wines.
Limoncello: local lemon liquor, best as an after-dinner drink.
Nocino: Local walnut liquor, best as an after-dinner drink.
Sofgliatelle: Italian puff pastry dessert.
Marzipan: sweet almond paste used in cakes and pastries.
Gelato: Italy's fabled ice cream.
Profiteroles: Pastry filled with cream and covered in chocolate sauce.