The Amalfis' Crown Jewel
Ravello offers grand architecture, exquisite gardens, panoramic views, gentle roads, and superb restaurants, which combine to create one of the most breathtaking ambiances in Italy for the most charming of vacations.
---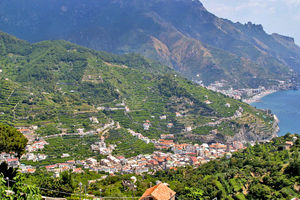 Ever since the great Renaissance author Boccacio discovered that Ravello was among the greatest and most inspiring backdrops in Italy, the world's greatest artists and writers have flocked here to be touched by its spell.
Ravello is the Amalfi Coast's most prized possession. Its incomparable beauty has been a constant source of imaginative inspiration to history's greatest artists for centuries, from Richard Wagner to D.H Lawrence, to even the modern Gore Vidal. This is a city for relaxation and reflection, the two activities towards which Ravello's many features are directed. Ravello urges its guests to get lost in its wonder, locate the pulse of their desires, and revel in its old-world essence.
History & Culture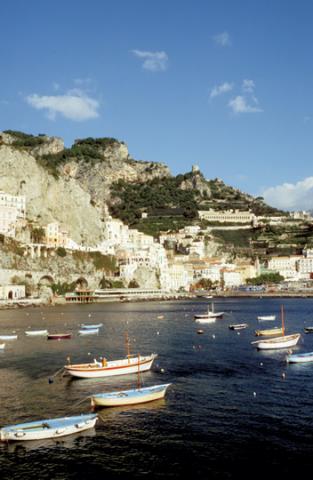 Sightseeing in Ravello is just as perfect an activity for embracing its extravagance as sunbathing or dining. Ravello's beautifully situated Duomo is among the most historically significant religious centers in southern Italy for being an important bishopric. Dating to the 11th century, it is intricately decorated by a series of beautiful mosaics, including one featuring the Biblical Jonah being regurgitated by a menacing-looking whale. In the Chapel you will find an interesting relic, a cracked vile of Ravello's patron saint San Pantaleone's blood, that is believed solid, and only liquefies once a year during a summer festival in his honor. Ravello is also famous for its magnificent palaces. The 15th-century Villa Cimbrone is the grandest, which in the 19th and early 20th century housed a great patron to the arts, the English nobleman Lord Grimthorpe. This gentleman of leisure kept his estate here, where he entertained some of the most prolific artists of his time, including Henrik Ibsen, D.H. Lawrence, Virginia Woolf, and Tennesse Williams. Of particular inspiration to these great authors were the old cloisters and chapels that permeate the estate grounds, and its exotic gardens that offer a sublime view of the Bay of Salerno. Ravello's other truly magnificent palace is the 11th-century Villa Rufolo, built by one of the region's most influential families. Of all of the celebrated people who have lived in the Villa, the most interesting was Pope Hadrian IV, who was intimately connected with Richard Wagner. Under the great Pope's hospitality, Wagner composed a magical act for his renowned work Parsifal, which has as its setting a place inspired by the Villa Rufolo's exotic gardens. This exact location also stimulated the great Renaissance author Boccaccio, who made the gardens the backdrop for one of the stories in his Decamerone.
When you have finished your day strolling through Ravello, a light drink followed by an exquisite dinner is in order. To begin, Ravello is home to several quaint venues for a pre-dinner cocktail, which are usually situated with excellent ocean views. Like Campania's cuisines, Ravello offers delightful, seafood-inspired fare. Zuppa di pesce (fish soup) is a great way to begin a meal; but of particular interest are the local prawns, which are especially fresh and tasty when caught in Ravello's seaside. Dorade (seabream) is another local favorite, which is lightly grilled and drizzled lightly with olive oil. Ravello's countryside provides for delicious veal scaloppini and lovely beef fillets that are generally cooked with local herbs and red wine. Wine-wise, Ravello produces some excellent wine made under the Costa d'Amalfi Ravello denomination, offering both red and white varieties that pair perfectly with local cuisine. Lastly, since we are in the land of the grapefruit-size lemon, have a chilled glass of limoncello (lemon-liquor) as a digestif.
Shopping, Festivals & Cuisine
Festivals
July 27: Festival in honor of patron saint San Pantaleone, whose blood is said to liquefy on this day.
Cuisine
Zuppa di Pesce: Regional fish soup.
Costa d'Amalfi Ravello: Denomination that produces both red and white wine from local grape varietals.
Limoncello: Lemon liquor best as an after-dinner drink.