The Amalfis' idyllic hilltop village
On the southern strip of the legendary Amalfi Drive lies the remote village of Positano. Not unlike some of its neighbors, this hillside hamlet is the ideal place to experience peace, luxury, and culture, whether you are lounging on a pebbly beach, enjoying a fine lunch at an outdoor restaurant, or promenading on its beautiful hilly streets.
---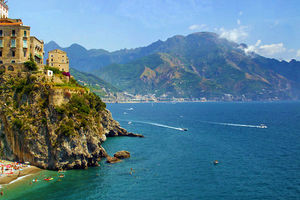 However you felt about the 2003 film Under the Tuscan Sun, there is no denying that all of us enjoyed its Italian scenery and found it fun to imagine how delightful it would be to exist according to such a relaxed and charmed pace of life. But a degree of confusion might have surfaced when the film's protagonist briefly visits Positano. Hollywood's classic bending of reality allowed for Positano to be just another beautiful town in Tuscany, a matter of minutes from her Tuscan home, not hundreds of miles away on the Amalfi Coast. This inconsistency notwithstanding, the film's portrayal of Positano is remarkably honest. Upon arriving in Positano, with Sofia Loren-like grace, the elegant Diane Lane calls over a handsome policeman to ask if he would mind driving her through this remarkably quaint town. Simply put, her journey is extraordinary, weaving down the picturesque narrow Positano streets on a motorbike, with her hair fluttering in the wind as she gazes upon the perched whitewashed houses and a striking view of the crystal-blue sea. In reality Positano is just this, the stunning petit village that offers each of its guests an unspeakable splendor perfectly suited to the most pleasurable of vacations.
History & Culture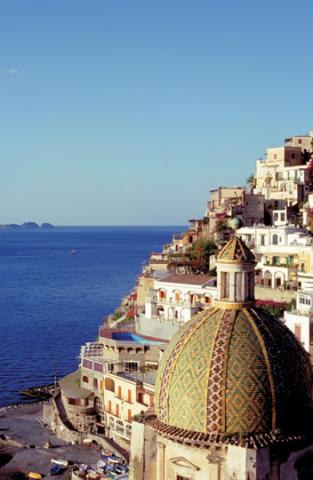 Positano was once a part of the powerful Republic of the Amalfis, but hardships in the late Middle Ages and Renaissance made this beautiful coast all but uninhabited. Positano is said to have been "discovered" by the American General Mark Clark after World War II, when his troops were stationed in nearby Salerno. Soon thereafter, people, mostly artists and painters, flocked to Positano's idyllic setting in search of inspiration in its perfect peace and tranquility. Today this is a major tourism venue, but it still remains intimate, filled with cute little shops, cafés and restaurants. Positano's streets are rather steep, so fit legs and comfortable walking shoes are a must! The beaches are pebbly, but nice, and filled with elegant and beautiful people casually sunbathing.
Since pleasure is the town's main attraction, eating and drinking is done in exquisite fashion in Positano whether you are sitting at the beach or outside at a fine restaurant. As we are in a seaside town in Compania, seafood and Neapolitan cuisine are the primary players. All visitors are encouraged to order anything made from buffalo mozzarella (the best kind, made with water buffalo milk) and the region's excellent sun-ripened tomatoes: excellent options are the omnipresent insalata alla caprese or a delicate salad made up of these ingredients with some fresh, peppery rucola. A favorite and very tasty way of eating seafood in Positano is as a light olive-oil fish fry. Shellfish is also great, which makes excellent soups like zuppa di cozze (mussel soup) or a linguine dish topped with lobster or spider crab. Of course the pizza is excellent, and if seafood is not your thing, Positano has great pasta options with the Amalfi coast's fabled tomato sauce. Refined wine bars are also very popular throughout Positano's winding, hilly streets, offering the region and country's best wine. But try to stick with local wines, both because they complement the food perfectly and because wine is an excellent way to absorb, so to speak, a land's culture. Excellent, refreshing whites are Greco di Tufo, Fiano d'Avellino, and Falanghina. Grilled red meat from the mountains is also prepared nicely, and is ideally complement by Aglianico, a local red wine. Bear in mind that all exquisite dinners along the Amalfi Coast, Postiano included, are finished with glasses of its vibrant yellow liquor limoncello (a refreshing lemon liquor).
Shopping, Festivals & Cuisine
Shopping
Ceramics: Positano is the home to some very beautiful, brightly colored pottery.
Jewelry: Antique Jewelry
Cuisine
Buffalo Mozzarella (Mozzarella di Bufala): made from water buffalo milk.
Insalata Caprese: popular regional salad made from mozzarella, basil, and tomatoes.
Zuppa di cozze: a delightful mussel soup.
Greco di Tufo/Fiano d'Avellinio/Falanghina: regional white wines.
Aglianico: Grape producing robust red wines.
Limoncello: a regional after-dinner lemon liquor.