City of benevolent chaos
This city's trademark pandemonium has manifested itself through a passionate and lively energy that will utterly absorb you if you dare to appreciate its charms.
---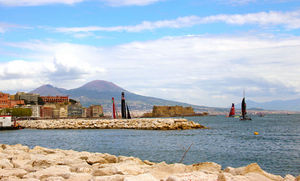 Naples is inhabited by a particular essence, one that either brings its guests to the very heights of elation, or drags them to the fiery depths of discontent. This is a place where enthralling culture and amazing cuisine are paired with an abundance of activity and noise.
Even today, a cultural duality persists in Naples, although in a slightly tweaked form. Traditionally the joys of food and the most scenic of natural surroundings were maladroitly complemented by organized crime and dilapidated neighborhoods. But in Naples' recent past Italy has taken notice of its culture, which persisted as captivating despite the many things working against it. Much to our delight, visitors to Naples now enjoy its fabled pizza and excellent wine before and after a performance at the famed San Carlo opera house and casual strolls through the mysterious labyrinth of ancient streets without feeling threatened. But do not be fooled: Naples is still an extremely energetic city with little to no order or organization. Naples can be thoroughly enjoyed if you're willing to take its idiosyncrasies in stride and consider them a lively complement to an exotic culture and cuisine that are begging to be embraced.
History & Culture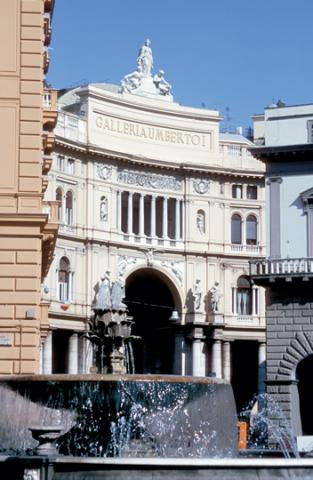 Naples, or as it was known to the Ancient Greeks who founded it Neapolis (meaning new city), is listed as UNESCO World Heritage Site. Its surroundings are just as prolific as the city itself, boasting Mount Vesuvius, the delightful islands of Capri, Ischia and Procida, and the Amalfi Coast. Regarding Naples itself, a classic promenade of this city will show its truest and most elegant face with its ancient narrow alleyways and mysterious churches. Perhaps the most famous church is the San Gennaro Cathedral, known for its annual Miracle Blood ceremonies (these take place a few times a year, most notably on September 19th, the saint's feast day), which include watching the blood of the beheaded St Januarius (San Gennaro) turn to liquid in its ampoule. This is celebrated along with a procession followed by a feast with vendors selling local fare and merchandise all around the Cathedral.
Scores of charming gardens permeate the city and are a great place for a scenic refuge if Naples' thundering personality proves a tad excessive. The loveliest is the Santa Chiara gardens, on the grounds of a convent, with looming columns, benches and walls that are of a stunning glossy-pearl color. The technical name for this hue is majolica, which is a white tin glaze decorated with colorants that are applied on a raw surface of white slip before firing. After absorbing a bit of mystical inspiration in the gardens, pay a visit to nearby quaint music shops, bookstores and, of course, pizzerias (the "soul food" of Naples).
Nature lovers will be happy to know that Naples' urban sprawl is complemented by the labyrinth of caves at the Piazza San Gaetano. Build on limestone, this site was once used as a cemetery and as a gathering place for cults. Exploring Naples' underground city is a favorite activity of the adventurous, exploring its meandering 2000-year-old tunnels, Ancient Roman aqueducts, cisterns, and caverns.
Shopping, Festivals & Cuisine
Shopping
There are hundreds of small shops that sell local handmade products. Walking around the Quartieri Spagnoli, there are dozens of craftsmen selling handmade nativity scene figurines, Capodimonte porcelain, cameos and gouaches. There are also shops that sell leather goods and gold and silver jewelry. Piazza Vittoria has Marinella is famous for its ties. Lastly, a visit to the Antignano market will delight shoppers in search of elegant clothing and shoes.