The pulse of modern Italy
Milan is Italy's most dynamic metropolis, and acts a bridge between Italy's glorious past and its thriving present.
---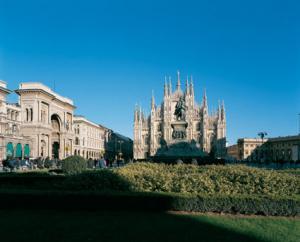 Milan boasts being Italy's economic and commercial center, which has endowed it with many of Italy's top industries, most famous of which its high fashion. But infused into this city's fabric is a culture as enduring as any in Italy thanks to its Visconti and Habsburg heritage, a keen devotion to the arts, and the innovative and enterprising spirit of its people.
Milan is a gateway, one that can lead us to Italy's deep historical roots or its modern and prosperous spirit shared with all nations of the European Union. Milan presents its guests with a decidedly different look of Italy. While the people of Milan are most certainly a degree or two less intense than their American and South East Asian counterparts in New York and Hong Kong, the Milanese are as industrious and rigorous in their work ethic as any in Europe. Thus, unlike in Rome or Florence, instead of seeing smartly dressed couples enjoying a quiet, sunny day sipping an espresso in a piazza, in Milan we find Armani- and Gucci- clad hordes nonchalantly, yet efficiently, contributing to Europe's thriving economy. But while many of us vacation to escape the working spirit that pervades our own country, each of Milan's guests is invited to enjoy the fruits of Milanese labor. Whether you are looking to buy "this season's" fashion collection months before it even hits New York and Los Angeles, or you fancy promenading through art galleries and museums, Milan's options are incomparable. And of course, what might be dubbed Milanese efficiency has attracted some of Europe's greatest and most creative minds or centuries, which further contributes to its powerful culture. As a final but no less compelling note, Milan's mixed Roman-Teutonic heritage has created one if Italy's most inspired architectures and cuisines.
History & Culture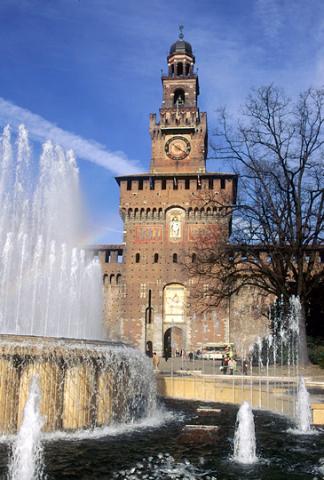 As Milan's spirit floats between its cultural heritage and present-day refinement, visitors are urged to do likewise. The first site that deserves your attention is Milan's world-famous 14th-century Duomo. Nothing in Italy depicts gothic architecture as effectively or beautifully as this imposing yet graceful structure, garnished with lacy flying buttresses, belfries, gables, and steeples reaching up to the heavens; inside is just as grand and impressive. Its adjoining Baptistery is also worth seeing, especially for Church history/philosophy buffs, as it is widely believed that it is the site in which St. Ambrose baptized St. Augustine. After such marvelous architecture, it is now time to revel in Milan's superlative art. Inside the Pinacoteca di Brera we find one of the city's finest galleries. For all those who passed through a few Renaissance art history lectures in college, several of its works will ring a bell and will hopeful help you understand how and why strokes of a paintbrush can offer profound inspiration. Chief among such works is Mantegna's Dead, or Foreshortened Christ. While there is little remarkable in yet another piece depicting Christ, there is in the way he is presented with its perspective putting us at his heals to gaze over his lifeless body. Moving to the Santa Maria delle Grazie we find what is perhaps the Renaissance's most iconic image, Da Vinci's Last Supper. Witnessing this grand mural is a truly magical experience for its artistry, sheer size, intimacy, which is partially attributed to the church's rule of only allowing 25 viewers at a time. Plenty of other art permeates Milan, and all of it is worth embracing with as much enthusiasm as you can muster. One item that must be born in mind is that Milan is home to La Scala, one of Europe's most prestigious opera houses. So after you pass through Milan's several elegant fashion and accessory shops on Via Monteapoleone and Corso Vittorio Emanuele in the heart of the shopping district, pop back to your hotel, dress yourself in raiment befitting a sophisticated Milanese man or lady, and head off to prime your palate with a glass of wine for an exceptional dinner.
Shopping, Festivals & Cuisine
Shopping
Milan is known as a center of fashion-the English word "milliner" derives from the city's name. There are several outlet shops that have discounted clothing. Via Montenapoleone is in the heart of the shopping district, with retailers featuring popular brands such as Dolce & Gabbana, Versace, Gucci, and more. Corso Vittorio Emanuele is also a famous street for fashion shopping. Vintage clothing shops also dot the city. Milan is well known for the jewelry selections-elegant, creative accessories found nowhere else in the world. Here the jewelry aficionado finds the unique, eclectic pieces with unusual stones, metals and lacquers. Other goods popular to buy in Milan include books, perfume, home décor and pottery. Many shops cater to the customer by offering a comfortable setting with cappuccino and television.
Cuisine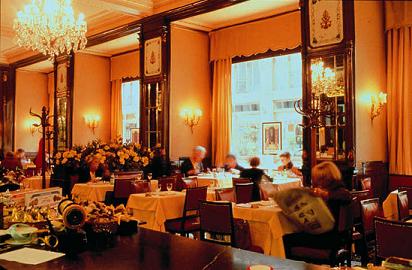 Due to Milan's cosmopolitan, international flare, we see a special emphasis on nouvelle cuisine that combines the hearty, buttery, and cheesy local flare with the most cutting edge cooking techniques and styles. Dishes still largely consist of Lombardy's delicious cheeses like taleggio, stracchino, gorgonzola, mascarpone, and, of course, butter, which makes Milanese cuisine heavy, if incredibly tasty. But with Milanese chefs embracing the tenants of French cuisine (smaller portions, pairing lighter flavors with the heavier), many of the dishes that incorporate such ingredients somehow make for a lighter experience and allow for the people of Milan to still fit in their chic designer clothes! Unlike in the more southern provinces, rice, not pasta, reigns supreme, offering such dishes as the creamy saffron infused risotto alla milanese. For meats there is the famous veal alla milanese, a delightful breaded cutlet, arrosto, roasted beef, veal, or pork, and a host of excellent salumi, cured meats, from bresaola to exquisite sausages. And while seafood has never been a part of its traditional cuisine, Milan's international dimension gets all sorts of varieties from the Mediterranean to even as far away as the Atlantic. The wine selection is just as cosmopolitan as everything else in Milan, offering both the best vintages made in Italy and around the world. However, the regional wines, like the sparkling Franciacorte and the red Viltellina Superiore DOCG, pair very nicely with the local food. If you want to try something local but just outside of the region, look to the wines of Piedmonte, which are among the world's best.