For the lovers of life's simple beauties
The Italian Riviera attracts a different kind of visitor, one who is ready to soak up Liguria's warm sun, delight in the crystal clear Mediterranean, and indulge in the relaxed and easy pace of Italian life.
---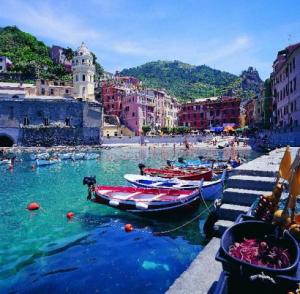 The Riviera's enthralling culture has many faces, which are sometimes best absorbed lazing on a sandy beach, enjoying an espresso at a cliff-top café overlooking the sea, or sipping a crisp Ligurian white wine paired with a pasta and pesto dish at a harbor-side trattoria.
The Riviera is one of the Italy's most unique and stunningly beautiful coastlines, known for its pristine beaches rolling to and from jagged seaside cliffs and coves. Interspersed throughout are some of the quaintest villages imaginable, most famous of which is Portofino. In recent years Cinque Terre has received much attention for its natural beauty that visitors enjoy while casually walking between its villages. Then there are places like Bordighera, a town so special that it even stole the heart of the famous French Impressionist Claude Monet. Next door, just before crossing the French border, is Liguria's Ventimiglia, which is famous for its Botanical Gardens. The Riviera is also home to glamorous locations like San Remo, where guests can gamble the night away sipping luxurious cocktails at chic casinos. And, of course, no visit can do without passing through Liguria's capital, Genova, to stroll down the Via Aurea, or Golden Street, an avenue covered in magnificent Renaissance palaces.
History & Culture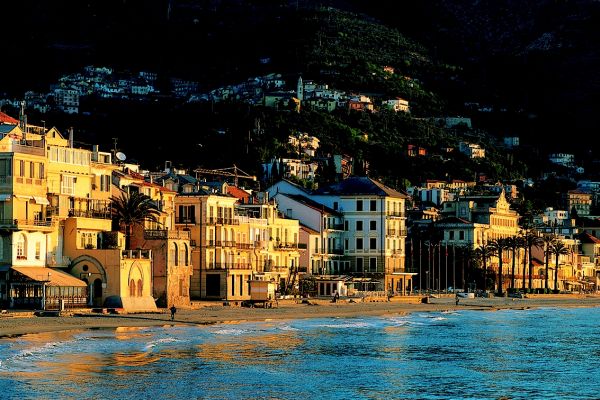 The Italian Riviera, like many of Italy's famous regions, owes much of its appeal to its mixed cultural heritage. Its location on a narrow coastal strip between the Ligurian Sea and the Maritime Alps and the Apennines has provided a secluded, protected land for its settlers to flourish. The raven hair and olive skin that characterize the Riviera's people is said to have come from the Greeks who colonized Liguria in pre-Christian times. Not long thereafter, barbarian tribes like the Lombards, Normans, and the Muslim Saracens invaded and assimilated to create a nation that would become a great maritime republic, until several centuries later when Napoleon absorbed the Republic of Genoa into his vast empire. After the great general's collapse, Liguria was absorbed into Victor Emanuel's Kingdom of Savoy and Sardinia, which would later unify the Italian peninsula after Garibaldi's famous victory in 1861. Historically, the Riviera extends past Monaco to Nice, but by way of an 1860 treaty, this area was given to France.
In the Italian Riviera we are dealing with a fusion culture, one that shows its lovely face in many ways: our favorite, its cuisine. Whether we know it our not, many of America's most loved Italian dishes come form the Riviera, such as the basil-based pasta sauce known as pesto. While traditionally pesto is served with many kinds of pasta, the regional favorite is trofie al pesto, a doughy, short pasta similar to a light gnocchi. Another specialty is spaghetti allo scoglio, pasta with a tomato-based sauce mixed with an assortment of local fresh seafood. Yes, fish is a mainstay Riviera cuisine, offering items like branzino (seabass) and orata (dorado), prepared perfectly grilled or baked and dashed in simple herbs and with a drizzling of olive oil. For meat eaters, the Ligurian hills provide its visitors with stunning and succulent lamb and rabbit, which is delightful when paired with fresh local wild mushrooms. The Italian Riviera actually produces wine locally, aptly named Riviera Ligure di Ponente. Wine produced under this denomination taste beautifully with the regional fare: the crisp and refreshing whites are Pigato and Vermentino, and the fresh and fruity reds Ormeasco and Rossese.