Italy's principle seaport
As Italy's principal seaport, Genoa is located on the northwest coast of Italy in the region of Liguria, not far from the French border.
---
Genoa is a train hub that can be reached from Milan, Tornio, La Spezia, Pisa, Rome, Nice and France. This spectacular section of the Italian Riviera has several interesting villages, ports, and resorts. Most can be reached by train, bus, or ferry from Genoa. Portofino, Rapallo, and Camogli are three of the most popular destinations.
There are two train stations, Principe and Brignole which are both in central Genoa. Buses leave from Piazza Della Vittoria. Ferries leave Genoa's port for Elba, Sicily, Sardinia, and Corsica. Genoa's small airport, Cristoforo Colombo, provides flights to other parts of Italy and Europe. There is a good local bus service in Genoa. Local ferries go to towns along the Italian Riviera.
History & Culture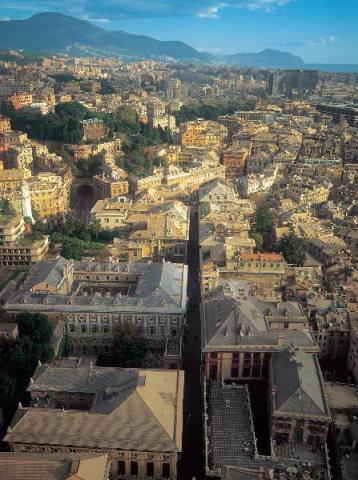 From Piazza del Portello you can take the public elevator to go up the hill to Piazza Castelo or the funicular to go up to Chiesa Di Sant'Anna where a good walking path descends from the church.
The historic regatta, one of Italy's most exciting, is held the first weekend in June every fourth year. Boatmen from the ancient maritime republics of Amalfi, Genoa, Pisa, and Venice compete (the festival rotates amongst these cities).There is a jazz festival in July.
The statue "Christ of the Depths", underwater at the bay's entrance, is celebrated at the end of July with a Mass, the illumination of the reefs and a line of underwater torches to show the way to the statue.