The Mother of the Renaissance
For all Tuscany's splendor, when it comes to the treasures of the Italian Renaissance, Florence, or Firenze, is unrivaled.
---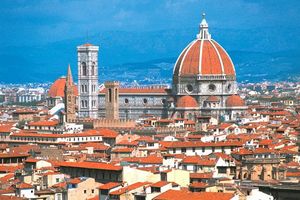 Tuscany is overrun with the most beautiful cities and towns, which all boast quaint medieval streets and striking architecture; but none is like Florence, a veritable art museum unto itself. In addition to its significant past, Florence today has one of the most thrilling and convivial cultures in Italy, giving it the perfect ambiance in which to relax, appreciate, learn, and savor.
Florence's allure has several facets. Many of us first decide to come to Florence to understand why it is so special, to see the majestic mosaic of the Last Judgment covering the Baptistery's ceiling, or to look out at the Ponte Vecchio while trying to catch an internal glimpse of what it must have looked like when Dante would have crossed it. Others among us are making the first of many pilgrimages to the Uffizi Gallery to gaze upon the masterful works that, until this point, only existed to us in a university textbook. Still more come to Florence to try its haute cuisine, to attempt to grasp the transcendental beauty created through the simple combination of a bistecca alla fiorentina paired with a bottle of Brunello di Montalcino. Some of us don't know how we even arrived in Florence, but are ever-so-slightly perceptive of having been drawn to it by its intense energy derived from an immortal past and compelling present. All of Florence's enthralling personalities await its visitors, who are all bound to realize that each one is a different shade of the singular enduring Florentine spirit.
History & Culture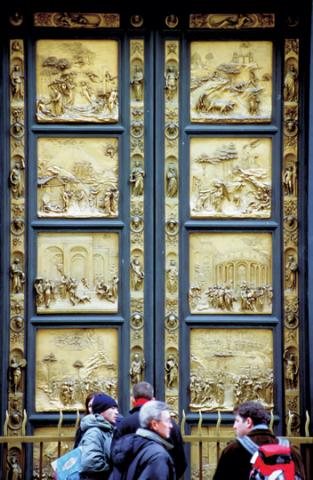 While all of Tuscany worked together to produce the Italian Renaissance, no city's influence was greater than that of Florence. This is primarily a result of the city's proud ruling family, the Medici, who devoted their vast riches to the arts like no other family in Europe. After spending more than three centuries accumulating art produced by the Renaissance masters, the Medici family ended its rule with the last grand duchess, Anna Maria, who in 1737 bequeathed her family treasures to Florence. Today this most vast of Renaissance collections is at the famous Uffizi Gallery, in the site of an impressive 16th-century Renaissance palazzo built by the famous Giorgio Vasari and commissioned by then-Duke Cosimo de' Medici. Art enthusiasts will be in absolute awe passing through its galleries filled with the sublime works of literally every virtuoso who even touched a paint brush during the Renaissance; but to name a few of its most recognizable works; Giotto's Ognissanti Maestà; Botticelli's Birth of Venus; Leonardo's Adoration of the Magi; Michelangelo's Holy Family; and Raphael's Madonna of the Goldfinch. Being Italy's center of art, Florence is endowed with a several noteworthy art museums, all of which are very much worth seeing, especially for impassioned art lovers (noted below).
But, for an even more unique experience, one only possible in a city as architecturally rich as Florence, you have to walk around the city's many artful layers, which begins with the Duomo and Baptistery (although there is much more in other areas to explore). The 14th-century Duomo's façade rather aptly is among the most heavenly creations ever made, ascending up to Paradise with successions of white, pink, and green marble, representative of the Florentine gothic style. The inside is truly magnificent despite the fact that much of its art has been moved to the Duomo Museum. But the imposing nature of its size alone makes passing through its interior a thrilling experience. The art that remains is positively striking, such as the terrifying judgment scene decorating the inside of the cupola; then there is Uccello's massive clock depicting the heads of the Church patriarchs.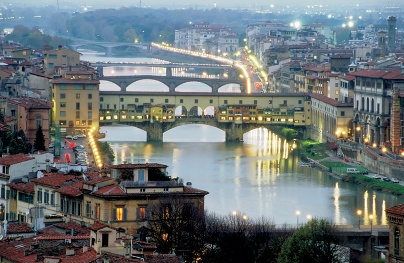 There is also some notable stained glass work in the dome designed by the early Renaissance's tightly knit group led by Donatello and Ghiberti. But something that you absolutely must do while inside the Duomo is climb up to its dome. This magnificent creation done by Brunelleschi stands without support, and is the example to which all other Renaissance cathedral domes are compared. Even Michelangelo, the designer of the Vatican's dome, claimed that while his would be larger, it certainly would not be lovelier. In total it is just over 460 steps but well worth it. Across from the Duomo is St. John's Baptistery, honoring Florence's patron saint, which many herald as Florence's most interesting site (fascinatingly, this was once the site of a temple honoring the god Mars, the patron of old Florence). It begins with bronze doors completed by Ghiberti. Once you see these special works, labeled the Gates of Paradise, you will understand how it took even a master like him over 20 years to complete (regrettably these are copies, but very well made ones. To see the original go to the Duomo Museum).
With as much divine fluidity as the words that tell the stories, Ghiberti's north doors narrate the life of Christ, from the Angel Gabriel's Annunciation, the Nativity, to Crucifixion. After impressing Florence with these, he was also commissioned to produce the east doors, which include some equally stunning scenes from the Old Testament, most notably the story of Joseph, son of Isaac. The final set of doors is the oldest, and was completed by Andrea Pisano, who depicted the Cardinal and Theological Virtues, and scenes from the life of John the Baptist. Finally getting inside the Baptistery, you will find one of Europe's most impressive mosaics adoring the ceiling. This 13th-century piece depicts the Last Judgment, with an imposing and severe Christ, a host of angels, and a menacing, human-devouring Satan.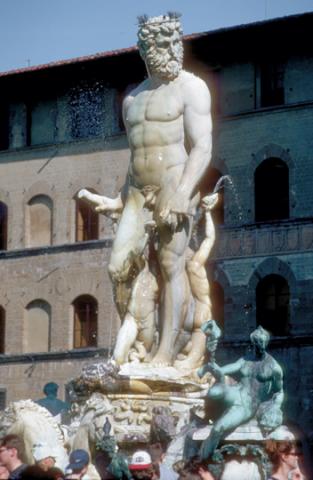 After witnessing a horrifying medieval interpretation of the end of the world, what better activity than to settle into a great meal. Eating in Florence is as good as it gets in Tuscany, and like most of the regional cuisine, an emphasis is put on its peppery olive oil, beans and produce, tasty cheeses, and grilled meats and game. An interesting feature about restaurants in Florence is that a few are exclusively "family-style," with large tables where several parties can sit, eat, drink, and get to know each other. An excellent way to begin a meal is with crostini di fegato, which is lightly toasted bread spread with a topping made of chicken liver, capers, anchovies, sage, and butter. For those wanting to try some really good lasagna, Florence is the place to do it, with creamy béchamel and a tomato sauce made from ham, beef, fresh vegetables, and red wine. Another Florentine favorite is panzanella, which is essentially bread salad. It is a very simple recipe consisting of stale bread and fresh vegetables soaked in vinegar. A truly authentic dish is tripa all fiorentina: tripe seasoned with spices and topped with grated cheese. Frankly, this dish is not for everyone since some people cannot get their heads around eating stomach lining; but for those who can, tripe Florentine-style makes for an excellent dish. Then we have Florence's most exquisite dish, one that everyone save vegetarians must try, bistecca alla fiorentina. The meat used in this dish is incredibly special, coming from the oxen of the Chianina Valley. This beef is incomparably good: tasty, tender, and massive! All the preparation it requires is a light seasoning of salt, pepper, and rosemary, and then it is grilled rare (eat it rare, lest you incur the wrath of the chef and waiter). Wine drinking in Florence is very enjoyable thanks to the Tuscan wine. The Chianti region is just outside of Florence, so anything from Chianti, Chianti Classico, to Chianti Classico Riserva is a great bet, especially if you are eating bistecca alla fiorentina. Other red wine protagonists include Brunello, Rosso di Montalcino, and Vino Nobile di Montepulciano. To pair with lighter dishes, try the Vernaccia di San Gimigano; also Pinot Grigio from around Florence are known to be extra vibrant and tasty.
Shopping, Festivals & Cuisine
Shopping
Leathers
Jewelry (Ponte Vecchio)
Cuisine
Crostini di fegato: lightly toasted bread topped with a tasty chicken liver paste.
Lasagna: exceptional in Florence.
Panzanella: typical bread and vegetable salad.
Tripa alla fiorentina: Tripe seasoned with spices and topped with grated cheese.
Bistecca alla fiorentina: Florence's famous steak dish featuring the tasty Chianina beef.
Chianti/Chianti Classico/Chianti Classico Riserva/Brunello, Rosso di Montalcino, Vino Nobile di Montepulciano: excellent regional dry red wines.
Vernaccia di San Gimignano/Pinot Grigio: Regional dry white wines.