Garden of Paradise
The five little villages along with the stunning landscape that make up the Cinque Terre create a place unlike any other in Italy. Owing much to its beautiful, steep, and rocky surroundings, Cinque Terre is literally inaccessible by car, which provides for a uniquely intimate experience.
---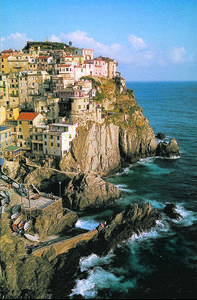 If the collective minds of all Italophiles came together to create the ultimate tiny, quaint villages infused with the most exquisite landscape, panoramic views, and cuisine, this imaginary place might partially resemble the Riviera's famous Cinque Terre. With the exception of Monterosso, the northern-most village of the five, Cinque Terre is a place endowed with a steep, rocky terrain covered with olive and chestnut groves. As a result, little of contemporary life exists here, providing visitors with a way to experience the rural, agricultural lifestyle that once championed the region. The communities of Corniglia, Manarola, Riomaggiore, and Vernazza are intimate little villages set on cliffs overlooking the stunning Gulf of Genova and are surrounded by remote gardens and vineyards that produce the finest quality vegetables and wines.
Each of the villages is connected by little paths running through the region's exotic woods, which are ideal for scenic hikes. In fact, many of Cinque Terre's visitors prefer to travel between the villages through these paths. Dining in Cinque Terre is also an amazing experience because of its excellent produce and the many herbs and mushrooms that naturally grow in its forest. Above all this is a place where one is meant to embrace the wonders of nature.
---
Staying in Cinque Terre
Cinque Terre is a seasonal destination - all hotels close for the winter (between November and February with scattered availability in October and March.)
In Cinque Terre, the main roads leading to the villages usually end before you get into the heart of town, so you will have to walk or make special arrangements. Some of the hotels have some sort of service they can provide if requested at booking.
We also recommend staying in the nearby destination Santa Margherita Ligure, which has a large town/small city feel, but is still very charming and shares the gorgeous sea views typical cuisine of Cinque Terre. From here, you can easily access any of the 5 villages of Cinque Terre by train in about an hour. However, Santa Margherita Ligure is also a seasonal destination.
History & Culture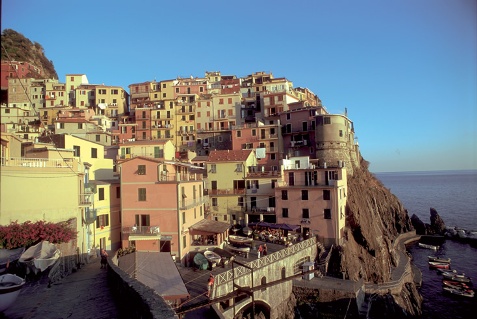 While it is possible to visit Cinque Terre on a boat or the trains that depart several times a day from Monterosso, the preferred and most inspiring mode of travel is hiking through its lovely walking trails. There are 14 hikes in total, each of varying difficulties, which are all explained in the brochure Footpaths Along the Cinque Terre and the Eastern Riviera found at Monterosso's APT office. Many of Cinque Terre's guests choose the easier hikes, allowing for a picturesque walk without too much exertion: an ideal option for such a journey is the trail between Riomaggiore and Manarola. For the more athletic among us, there are some very difficult climbs that offer equally striking scenery and panoramas, such as the trail between Corniglia and Vernazza. Amazingly enough, if you live by the maxim "no pain, no gain", there is a very rewarding hike from Vernazza to Monterosso that is very narrow and not particularly user-friendly, but it does cover some of Cinque Terre's most spectacular terrain.
Many enjoy a light hike as a way to prepare for or wind down from a lovely meal in one of the villages. Another popular activity is packing an exquisite, possibly romantic picnic involving fresh vegetables, cheese, and cured meats paired with a refreshing bottle of white wine; the untamed wilderness and gorgeous views make for an especially ambient meal!
Since Cinque Terre is generally perched high about the sea on cliffs, swimming in the Mediterranean Sea's crystal waters requires a bit of effort. The least picturesque beach, but easiest to get to, is Monterosso's public beach. It is a bit crowded but if you are willing to pay a small sum you can get your own private lounge chair. For those in search of a bit of adventure, Guvano beach is right up your alley. This very remote pebbly strip is, in fact, a nude beach, although feel free to wear a bathing suit since they are not necessarily prohibited! Super experienced hikers might prefer to take the steep and dangerous route stemming from the Vernazza-Corniglia hike. For those not as keen on dying young, there is, alas, a safer route. At the north end of the Corniglia train station there is a gated entrance. Ring the bell and pay the guard, who will guide you through a poorly lit tunnel for about a mile or so. If you can endure the journey, waiting for you at the other side the lovely Guvano beach and hordes of naked people. A final alternative is the minuscule beach beside Riomaggiore.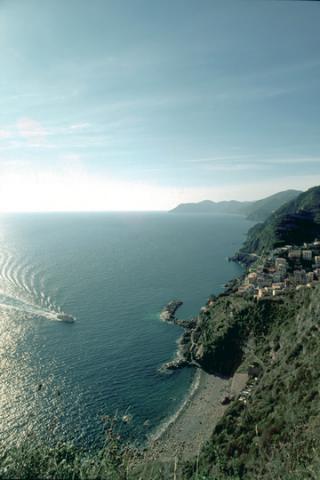 Lastly, no visitor leaves Cinque Terre without raving about the food. The omnipresent olive groves produce wonderful extra-virgin olive oil that is the base of all local cuisine. As you will see while hiking, mushrooms and herbs like oregano, rosemary, and sage grow like weeds in the forest. Also along the hiking paths grow the delicious pine nuts used to make the Ligurian delicacy pesto (basil-based pasta sauce). Local fishermen make a solid contribution as well with delectable anchovies, squid, mussels, clams, and other shellfish. A nice way to begin a meal is with antipasti di mare, which is an assortment of local fresh fish. A must-try dish is tegame alla Vernazza, a mixture of anchovies, potatoes, tomatoes, infused with white wine, olive oil, and herbs. Even you if are an avowed hater of anchovies, this dish is worth trying, as its taste is more mellow than expected, and is remarkably tasty! Another favorite is pansotti, ravioli stuffed with ricotta and spinach and served with a sauce made from local hazelnuts or walnuts. Lastly, an excellent and different way to indulge in pesto is with pesto lasagna, or pesto spread on focaccia, which is a specialty of Liguria. The wine drunk here comes from the vines crawling all over Cinque Terre. It is a white wine called Sciacchetra, made from the Albarola, Bosco, and Vermintino varietals; and because of the grapes low yield, this wine is as flavorful as it is refreshing.
Shopping, Festivals & Cuisine
Cuisine:
Pesto: pasta sauce made from basil, cheese, pinenuts, and olive oil.
Antipasto di mare: An assortment of fresh seafood that begins a typical meal in Cinque Terre.
Tegame alla Vernazza: An exquisite dish with a mixture of anchovies, potatoes, olive oil, wine, and herbs.
Pansotti: Ravioli filled with ricotta cheese and spinach, topped with a walnut/hazelnut sauce.
Pesto Lasagna: The classic recipe with a healthy dose of basil pesto.
Focaccia: Famous Ligurian flatbread made with olive oil and herbs.
Sciacchetra: Cinque Terre's famously delicious and refreshing white wine made from local vines.
Shopping:
Go to the local shops and bring home some fresh food products, olive oil and wine.