Famous island off the Amalfi Coast
Capri is Italy's incomparable resort island, complete with striking wide-ranging views, golden lemon trees, white-washed villas, exotic courtyards, and, of course, a crystal blue sea. This is the ideal vacation getaway, especially for romantic types.
---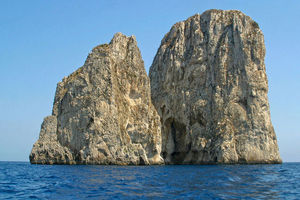 Despite its popularity, Capri somehow offers each of its guests an entirely intimate experience.
Capri is a magical place, the very incarnation of fantasy for those who want to experience the most charmed, deluxe, and leisurely of lifestyles. Since Ancient Roman times, Capri has offered this fabled existence to anyone willing and able to indulge in its delights. Indeed, Capri is a transcendental place, which can only be described with a bit of imagination. With this in mind, let us fabricate a movie scene of sorts, with legendary actor Marcello Mastrioianni strolling down a narrow cobblestone path flanked by lustrous lemon trees and exotic flowers. He is dressed in a pleasant fitting white suit, passively smoking a cigarette with his hair lightly blowing in the breeze. As he summits a gentle hill, he catches sight of the delicate ocean lapping the jagged coastline. After a moment of reflection, he moves on to the center of town where he nonchalantly greets several Sofia Lauren types sipping either a light sparkling wine or an espresso at an outdoor café. Ultimately he finishes his stroll by arriving at his modest yacht where his radiant companion has just uncorked a refreshing bottle of white wine, paired with a delicate insalata caprese. The day continues and ends in light and joyful chitchat while soaking up Capri's sun in fashionable recliners.
History & Culture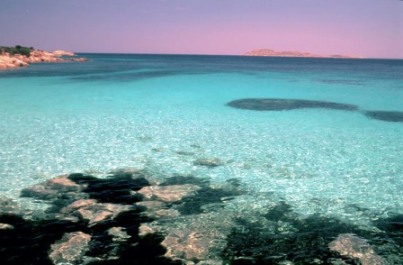 While Perillo's ItalyVacations cannot, per se, find each of our patrons a Marcello Mastrioianni or Sofia Lauren, the rest of Capri's famed luxuries are there for the taking, chief of which, its pristine waters and alluring coastline. The first thing you will notice about Capri's beaches is that they tend to be on the rocky side due to the natural mountainous landscape. The result, however, is very pleasing, because the handful of Capri's stunning sandy beaches are surrounded by scenic and dramatic cliffs, creating a rather remote ambience. Perhaps most famous of these is Bagni Nettuno, which is a private beach (the better ones tend to be). Thankfully, the entrance fees are relatively inexpensive and well worth the price since they include use of a cabana, lounge chair, and a towel, which are all part of Capri's luxury experience. If you can imagine sitting back and contemplating the rocky, untamed surroundings while casually sipping on a crisp white wine, you are half way there. Swimming at Nettuno is equally marvelous, as one can travel through the smooth waters to the rock cove of the nearby Blue Grotto. This is one of Capri's most beloved sites particularly for its famous natural caverns, which are penetrated by sunlight to give an awe-inspiring bright azure hue to the ocean water.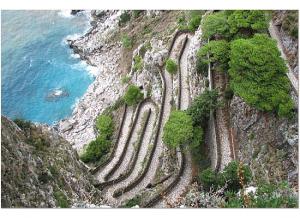 Exploring the town of Capri begins at the resort town's nucleus, Piazza Umberto I. This is where Capri's thriving and relaxed café culture is best appreciated by ordering an espresso, some chilled wine, and/or one of their various panini or other light fare; and as you are taking in your exquisite surroundings, don't be at all surprised to see celebrities doing the same around you. From here, a nice way to continue is a passegiata, a walk Mastrioianni-style, down the Via Vittorio Emanuele. Along the way one will encounter several of Capri's defining elegant hotels and a host of its natural delights, which lead to the charming Giardini di Augusto. This attractive park is a great place to regain one's breath and to take in Capri's gorgeous flora. At the highest point, one can get a striking panorama of the island and all of its crystal marinas and imposing cliffs. Moving back toward Piazza Umberto I to wander through the maze of the town's other alleyways one will encounter several delightful Renaissance and medieval churches, as well as some nicely preserved Roman ruins. The most famous of these is the Villa Jovis, named in honor of Jupiter by the Roman Emperor Tiberius.
Shopping, Festivals & Cuisine
Shopping
Perfume: Famous for being made from Capri's indigenous herbs and flowers.
Limoncello: Capri makes the finest available from its juicy lemons.
Jewelry: Capri is famous throughout Italy for its exquisite jewelry.