Gateway to Puglia's exotic culture
Bari is the city for those who want to stand at a cultural nexus, one that has been nurtured and preserved through millennia by cultures as far away as Northern Europe and Arabia.
---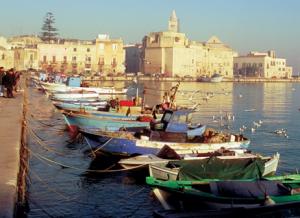 To fully appreciate this heritage, be it through a promenade of its unspoiled Old Town, an exquisite seafood dinner Bari-style, or even a healthy, modern dose of first-rate shopping, click below to begin planning your own barese adventure with Perillo's ItalyVacations.
A trip to Bari perfectly portrays the different breed of elegance offered by southern Italy. Upon passing through the Bari city limits, you will see something that stands in stark contrast to Rome, Venice, or Florence. As you stroll along the famous old-world avenue Corso Vittorio Emanuele II you will fully appreciate why Bari has become such a beloved destination of Italophiles: the untainted charm of the Old Town's medieval streets still bearing redolence of Bari's former maritime glory to one side and, to the opposite, a dynamic, cosmopolitan metropolis presenting visitors with the latest fashions and high-end amenities for which Italy has become famous.
History & Culture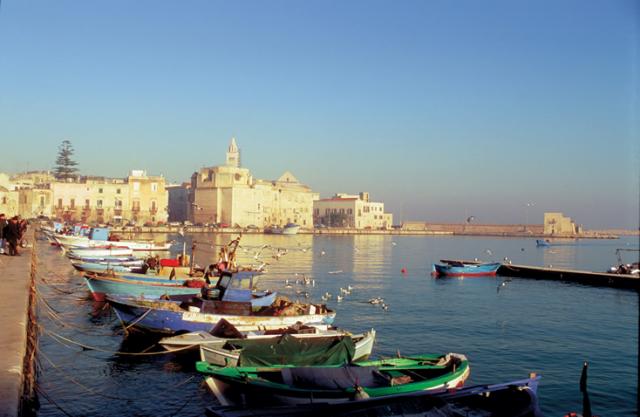 Bari's, or as it was known in Ancient Rome Barium, position on the heel of the Italian peninsula made it an important historic city for fishing. In the ninth century Bari passed through the hands of the Saracens and Byzantine Greeks; but because of its proximity to the Middle East the great Norman leader Robert Guiscard conquered it in 1071 to make it a center of the First Crusade. In later decades, a multitude of Crusade-related events would occur in Bari, perhaps most notable the famous sermons by epic theologian Peter the Hermit in 1095. Before being safeguarded by Frederick II, in 1156 another Norman warrior, William the Evil, would raze most of Bari to the ground.
One should not consider Bari's newer districts as separate to Old Town, but a modern commitment to the same virtues created by the mixture of Norman, Arab, and Roman that organically shaped Bari's fascinating culture and history. Perhaps the most famous and beautiful artifact of this heritage is the Basilica di San Nicola. This is the first and most stunning of Puglia's many Romanesque churches, and bears witness to Bari's prominent role in the First Crusades. Magnificently situated beside Bari's old harbor, this distinct piece of architecture was founded in 1087 to preserve the bones of St. Nicholas, which were stolen by a legion of 62 brave Barese sailors led by two priests. Continuing down the Old Town we find the formidable Castello Svevo, built by the all-conquering Emperor Frederick II, fashioned in the same Romanesque style. This impressive structure is very well preserved and will give visitors a vision into the many battles fought on its fortifications; it also represents Bari's glory in the 15th century under the magnificent courts of Isabella of Aragon and the Polish Queen, Bona Sforza. Also in the Old Town we find museums containing some of the best Renaissance art created by Bari's own at the Pinacoteca Pronvinciale. Moving on to the more modern Bari, we find the University and its spectacular Archaelogical Museum, which houses a host of ancient artifacts including Greek and Apulian amphorae. This area (Via Sparano) is where one finds Bari's finest shops; but, for those who want to see the shopping symbol of Bari, a visit to the Fiera del Levante is a must. It is an extravagant trade show founded in 1929 that holds various exhibitions throughout the year that underscore Bari's historical role in promoting trade throughout the Mediterranean.