City of Angels
Perhaps more than in any other Italian city, in Assisi a mystical, otherworldly presence dominates.
---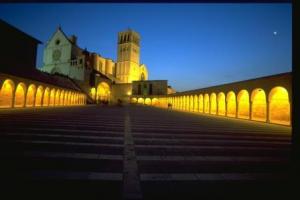 This would be easily explained by its role in the Catholic world, as the home to Italy's patron saint, St. Francis, along with one of the most glorious cathedrals in all of Europe. But thanks to Assisi's natural magnificence and stunning architecture, even non-Catholics can thoroughly appreciate the Franciscan devotion to loving the beauty of Mother Earth.
The story of St. Francis is an interesting one. Born into money, as an adolescent he was the hedonist of hedonists, in search of pleasure wherever it may have been. But one day as a young adult, St. Francis experienced something so profound that he started what is now perhaps the world's most celebrated monastic order - the Franciscans - who preach through the example of poverty and humility. Despite what may see ostensibly apparent, this creed is not entirely irrelevant to us, who are in search of the perfect vacation. St. Francis was actually known to lead a very pleasure-ridden life as a monk, immersing himself in what he believed was God's most compelling face, the beauty and wonder of nature in all of its manifestations. Assisi is a magnificent place, surrounded by rolling vine-covered hills and outfitted with striking medieval and Renaissance architecture. Thus, as it once inspired the beauteous philosophy of St. Francis, Assisi has offered pilgrims spiritual inspiration, both of the religious and non-religious varieties, for centuries. Assisi, like few other places, allows its guests to see beauty's simpler side: the solemn ringing of a church bell, birds chirping, the odor inside a cathedral, or the way light filters through stained glass. Refocusing your mind to notice such things will enhance your appreciation of Assisi's other aspects, like the energy of its people and its excellent cuisine!
History & Culture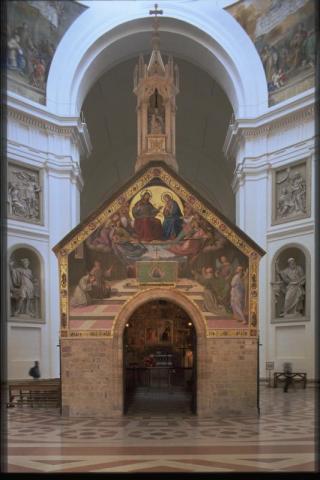 Quite frankly, the Basilica di San Francisco is among the most stunning man-created sites on the face of the globe. While it did endure some damage in the devastating 1997 earthquake, restorations had it back in action for the Jubilee in 1999. The reason this 13th-century house of worship is so remarkable is that it houses some of the finest art made by the masters of the late-medieval period, including Giotto and Cimabue. If you are a lover of art, the Basilica will certainly wow you; if you are not, let's say you will be converted (perhaps in more ways than one!). As you enter you will see its most striking pieces, Giotto's frescos in honor of St. Francis telling the story of his life, from preaching to the birds to his death. In the upper church one will find one of Cimbue's most famous pieces, the Crucifixion, which is unique and interestingly fashioned in order to fit the shape of its wall; and what is thought to be Cimbue's greatest work is the faded but inspiring Virgin and Child who are gazed upon by four angels and St. Francis. With a keen eye, visitors will notice that this art is peculiar, with a unique elegance not found in the work of the Renaissance masters. When Giotto and Cimabue were creating their art, artistic perspective was not entirely rediscovered. Thus, one will notice that people and structures are not painted to scale; but this is hardly a drawback, instead lending a remarkable beauty to the work. Lastly, and something of profound interest is the crypt of St. Francis along with his relics: the saint's tunic, cowl, shoes, and his very own communion plate. Guests should feel especially honored to have access to these since only recently has it been open to the public. For those wanting the most expert of guides, the Franciscan monks give tours throughout the week; other tour guides are not available to avoid disturbing worshippers.
Assisi is ideal for lovers of Italy's fabled medieval and Renaissance Architecture, especially in the town center, Piazza del Comune. In this area there are a few things of interest, including what was formerly a 1st-century BC pagan temple dedicated to the Roman god Minervra, who was worshipped as the god of several items, running the gambit from war to poetry. Considering its age, it is still remarkably intact; although one will notice that its interior has been converted into that of a baroque church to cater to the multitudes of faithful that flock to Assisi each year. Not far away is the Basilica di Santa Chiara, which is very much worth a visit for its history, great art, and a number of relics. It is a 13th-century church that honors St. Clare (her remains are kept in the Basilica), who, with the help of St. Francis, established the Order of the Poor Clares. All visitors to Assisi must be sure to take in the imposing fortress that historically watched over the town, Rocca Maggiore. From its walls it offers an unparalleled view of Assisi and its stunning natural surroundings. Finally, the Eremo delle Carceri (Assisi's spiritual retreat) is quite a sight especially for the devout, since it is believed that it is the site where St. Francis would spend his time in meditation and prayer. It is also believed that it was here that St. Francis blessed the birds. A handful of monks still live in the retreat, and are generally willing to show visitors around, including the frescos inside.
Shopping, Festivals & Cuisine
Festivals
Calendimaggio: Spring festival with medieval parades and sporting events. Evenings are occupied by singing, dancing, and drinking in medieval costumes. Takes place the first Thursday after May 1 and last until that Sunday.